The in-circuit test (ICT) involves the measurement of all individual components of an assembly. Defective components are detected and can be replaced if necessary. The function test (FCT) checks an assembly functions 100 percent as intended. The testing environment simulates the intended field of application and the electrical behaviour of the assembly is tested.
A multitude of different test probes are available for the optimal fulfilment of the contacting task. These differ in installation height, grid size (possible distance between probes), tip style, and connection type. The electrical connection is often made via a solder cup, a wire-wrap post, as well as with or without cable. INGUN offers various test probes depending on the assembly (PCB) to be contacted and the ambient conditions.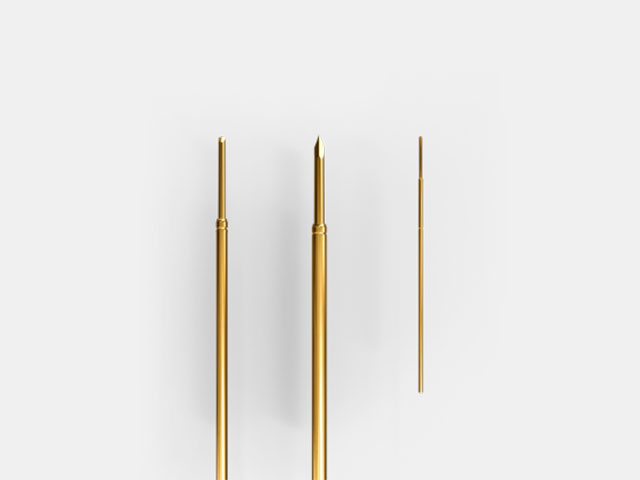 Standard spring-loaded test probes (GKS)
Standard probes (GKS) without collars have proven themselves time and again to be ideally suited for ICT and FCT. Depending on the working stroke of the test fixture or the components and test points to be contacted, different installation heights are necessary. These are achieved by the combination of test probe and receptacle. Only in this way can the optimum working stroke with nominal spring force be achieved.

Long stroke probes
In addition to the version with standard working stroke (4.3mm) there are probes (GKS) with long working stroke (9.3mm), which allow a combination of ICT and FCT in a dual-stage test fixture. If necessary, the signals are transferred to a transfer PCB via a spring-loaded plunger using wireless contact receptacles; this eliminates the need for wiring.

Short/robust test probes
Short/robust test probes are characterised by their durable, compact design. This makes these probes suitable for demanding ICT/ FCT applications with limited space as well as in larger grids.

INGUN E-TYPE® test probes
INGUN E-TYPE® test probes have a higher preload in comparison to standard test probes. This initial higher spring force guarantees reliable contact when the same load is reached (the spring force is equal to that of the comparable standard test probe at working stroke).

Rotating test probes
Rotating test probes can provide a reliable alternative if contacting problems occur. A rotating movement during the stroke process scratches the surface to be contacted, which securely penetrates insulating layers, such as severe contamination or anodised aluminium.

Bead Probe GKS
So-called bead probes are used for contacting beads (solder beads) on printed circuit boards. Various tip styles are available for optimal testing of beads depending on their geometry, composition and surface.

Fine pitch test probes
Fine pitch test probes are used to contact very small test points in small grids. These are sometimes mounted without receptacles.

Metric test probes
Metric test probes (metric standard) supplement the classic ICT/FCT test probes without collars. They stand out due to their stability and robustness and all feature a pronounced collar.

INGUN S-Line
The socketless series enables testing without receptacles. As a result, S-Line test probes fit in common grid sizes, despite being larger in diameter, and offer better mechanical durability.