Interface blocks (SB) are used to transmit signals reliably between the test device and test system in internal, external, and customer-specific interfaces. Signal, high current, radio frequency, fibre optic, pneumatic, mixed, HSD, and special blocks are available from INGUN in various different versions.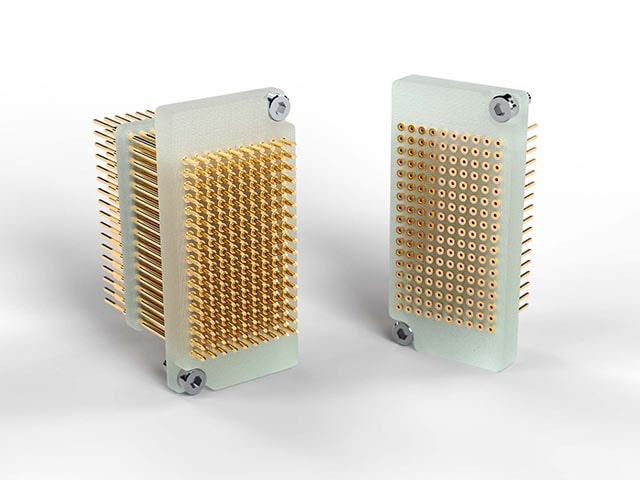 They all have the following features:
Compact, robust design
Reliable signal transmission
High contact/transmission quality
Uniformly low level of contact resistance
Connection of internal, external, and customer-specific interfaces
Quick, simple, and precise installation
Service life (under laboratory conditions): 80,000 load cycles (high current blocks), 300,000 load cycles (signal blocks)
Individualised configuration, reliable signal transmission
Signal transmission occurs between two interface blocks mounted opposite each other which are designed for a working distance of 15.1 ±0.5 mm between their mounting surfaces. In each case, one interface block is loaded with spring-loaded test probes while the other has rigid contact terminals. Pneumatic/fibre optic cable, and HSD couplings are also available. This achieves a continually high level of contact quality and reliable signal transmission while ensuring a uniformly low level of contact resistance. The interface blocks have identical outer dimensions.
For wiring the interface blocks, we offer low-wear plug connections that can be released quickly without any tools as an alternative to conventional wire-wrap connections. These are available as a 64-pole flat ribbon cable, pre-wired with socket strips and a multipoint connector, or 10-pole plug connector, pre-wired with litz wire cables.