INGUN offers a very wide range of test fixture kits and inline interchangeable kits for all common test systems/inline test cells. Thanks to the modular design, almost all testing tasks can be accomplished using standardised fixture solutions.




Step by step to the right test solution
All test fixtures are modularly designed and have a similar operating principle with probe plate, moving plate, and pressure frame device.
They differ primarily in how the parallel stroke contact to contact the electronic assembly is generated.
Test fixtures are available as interchangeable kits and stand-alone fixtures. Interchangeable test fixtures offer the advantage of being able to test different interchangeable kits with only one basic unit.

The test fixture consists of a housing (P/FGH) and a drive unit (ATE) while the exchangeable kit consists of a pressure frame (NDH) and a probe plate unit (KTE).
Test fixtures from INGUN are available with and without test system interfaces for all common test systems. Depending on the test system used, the test system interface is attached to the bottom or back of the housing. All test fixtures are supplied as standard test fixture kits and can then be customised by customers to meet their specific needs.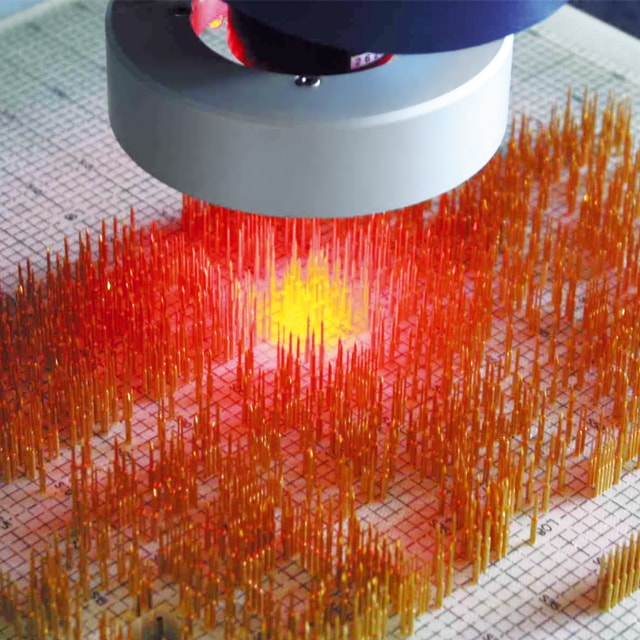 Test equipment Made in Germany – Test fixture kits for every application
The range of test fixture kits includes all test fixtures without customisation. Our customers in various industries customise these specific to their testing needs to enable precise, accurately replicable testing of electronic assemblies. As a leading company, INGUN offers standardised test fixture kits for all common test systems - from manual, pneumatic, and vacuum operated test fixtures to inline interchangeable kits - as well as an unsurpassed range of test fixture accessories.

High-quality and environmentally friendly
High-quality materials, which are decisive for high performance and high quality, are used in the construction of test fixtures. We attach particular importance to the environmental compatibility of the materials and processes used - further information can be found on our page about environmental protection and regulations.